WAYS TO STYLE A POLO SHIRT
By:

Dipty Nagpal

Apr 28, 2022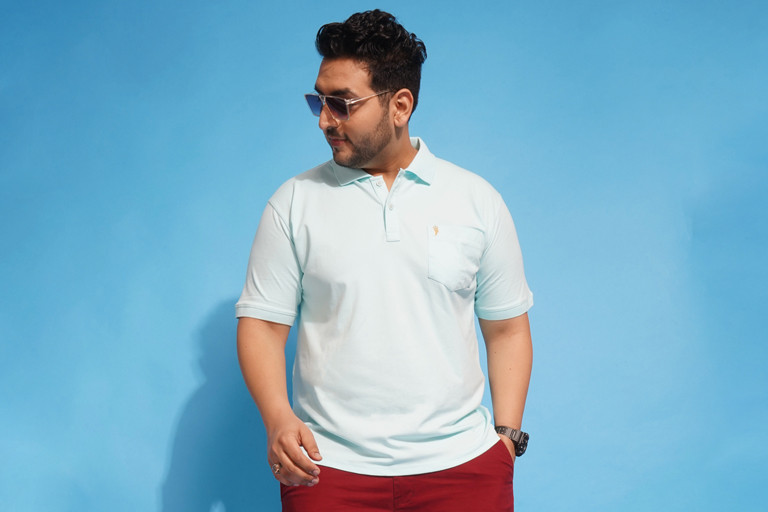 By definition, a polo shirt features a collar, a placket with two or three buttons, and a pocket. The polo shirt, often known as a golf shirt or a tennis shirt, has its origins in tennis. The polo t-shirt has evolved over the previous century, from its origins on the tennis court to its reputation as a wardrobe staple for the urban plus size guy, and has now become a must-have for stylish men of all ages. The polo shirt can be worn in a variety of ways.
The Summer appropriate fit : Replace your ordinary plus size shirt with a plus size polo for a look that will keep you cool in the summer while still allowing you to look presentable for parties and evenings out. Plus Size Chinos, which sit somewhere between smart casual and semi-formal, are the finest option of apparel to complete any look withplus size polo T-shirts. Tuck in your plus size polo t-shirt for a sleek and sophisticated style, and finish with black shoes, boat shoes, sports footwear, or sneakers. Pairing a plus size polo T-shirt with chinos can be a great way to get a relaxed look. Wear a light-colored polo shirt in plus size with fitted plus size shorts and espadrilles or boat shoes to outdoor summer gatherings.
Formal Look with Polo : Wear your plus size polos with a plus size suit, or excellent plus size pants for a more formal look. A plus size polo Tshirt and plus size blazer are ideal for everything from casual workdays to a laid-back lunch with pals. Make your look more fun and relaxed by wearing a colourful polo T-shirt in plus size. In the case of a formal function, wear a dark-colored plus size suit with a black or white polo Tshirt in plus size. Plus size polo Tshirts are designed to provide maximum comfort while also allowing you to stand out from the crowd thanks to their classic designs.
The Classic Polo with Denims : Do you want to know how to pair a polo shirt with jeans? Plus size Denim trousers and plus size polos, for example, are a timeless combination. Your top half will look comfortable and easygoing thanks to the open bottom. To avoid looking sloppy, make sure your plus size jeans are neat and tailored. There is a fine line between athleisure and messy. Plus size polo shirts in plain colours paired with a pair of stylish denim in plus size can elevate your entire personality and boost your swag quotient. You can also wear your plus size polos with plus size jeans, cotton, linen, or terry for a smart-casual look, and white sneakers instead of the typical loafer.
Polo's and jackets : A tan plus size polo T-shirt looks great with a black plus size bomber jacket. To create a sleek and uniform look, combine the plus jacket with a solid pair of plus size trousers. Plus, a denim jacket in plus size and white polo T-shirts are a perfect match for each other. The plus sized polo T-shirt assortment is stylish and sophisticated. By having them in your collection, you feel confident confident that you will appear acceptable when you add a jacket layer.
Polo's as active wear : Choose a plus size polo shirt made of breathable performance cloth if you want to wear it while exercising. Choose an all-white attire, such as a plus size white polo with plus size white chinos and white sneakers, for a classic sporting style. Combine your plus size polo shirt with a pair of tailored joggers and a light bomber jacket for an off-duty sportsman style.
The polo shirt has become a fashion staple in recent years. It's a common choice for tennis, polo, and golf shirts, as well as work basics and casual clothing. This practical, comfy shirt has become a wardrobe classic for the modern Plus Size Fashion Men statement.