HIT THE BEACH IN STYLE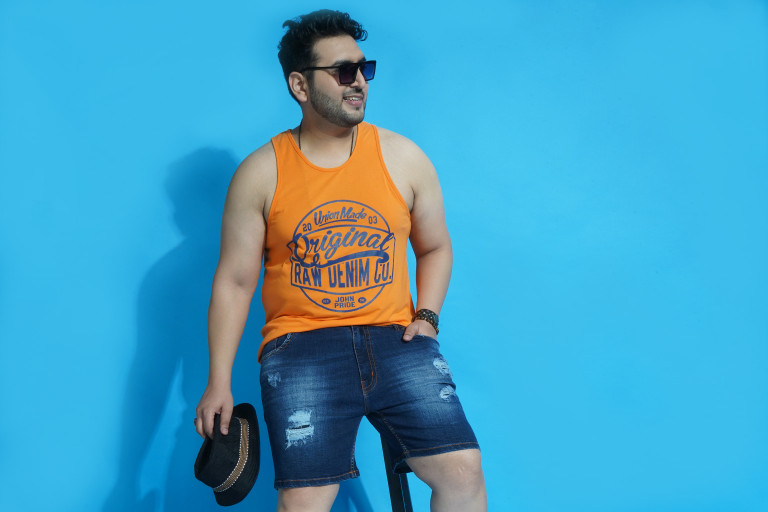 Apply sunscreen, put on your sunglasses, and set that "out of office" auto-reply email. You must have heard us. It's time to go to the beach and soak up some rays. If you're yearning for some sunshine, a trip to the beach is a definite way to brighten your day. But what are you going to wear in paradise? This is where we step in. We scoured the style dunes for the best Plus Size Shorts for Men and T-shirts that are perfect for beachwear clothes and suggestions.
The Go-to Outfit - If you build everything up around your shorts, this is the easiest beach look to pull off. For the most versatile beach style, we would recommend some denim & chinos shorts which you can pair with a solid tee during the day and then swap to a cotton or linen shirt for a somewhat fancier look in the evening. To provide some order to the outfit, take a color from your patterned shorts and match it tonally in your shirting pick.
The Evening Dinner - The polo shirt and trouser pair are a sure bet for anyone looking to dress up for the evening or we can say for a formal dining setup. Depending on the cut and style of each piece, the aesthetic has varying degrees of formality. Polo shirts made of cotton, for example, are far more informal than their knitted counterparts. When it comes to bottoms, a broader leg should be contrasted with a tighter fit-up top to allow you to roll up the hems more quickly if your feet dip. Slimmer tapered variants have a more formal feel to them and won't appear out of place in a bar as the sun sets.
Hitting the Beach - Printed shirts are all the rage right now, and they make it simple to incorporate patterns into your beach attire, which would otherwise be tough. They're usually made of linen or cotton and are light, breezy, and pop in the sunlight, while the deep V-neck allows you to flaunt your day's tan in the evening. A pair of chinos will maintain your shape and make you look sharp, and a darker pair will give you a blank canvas to impress with your shirt's complex pattern.
Perfect for the Beach Party - If you're headed to a beach party, this is a light and breezy look that's incredibly amazing to pull off! Combine a vibrant, graphic, or tank with a pair of fantastic shorts maybe denim shorts or your regular chinos, and your favorite aviators to complete the look. For those unexpectedly cool evenings at the beach, light layers might be ideal. You can simply layer your tank with your linen shirt. This beach suit combination is the most popular around the world because it keeps men comfortable, cool, and stylish.
These wardrobe ideas will help you seem stylish while on vacation at the beach, but keep these things in mind when heading to the beach so that you can enjoy yourself to the maximum.
Ensure the Plus Size Shirts for Men is made entirely of cotton or linen which is breathable, soft, and comfortable because Linen t-shirts absorb moisture quickly, so they're a good choice.
Never wear a completely black outfit because black absorbs the most heat.
Always have a pair of sunglasses with you when going to the beach. To complete the look, a hat or cap is required.
Proper outfit layering is crucial, as one mistake can completely ruin the look.
Choose footwear that is both comfortable and breathable.