GUIDE TO CHOOSE RIGHT T-SHIRT FOR PLUS SIZE MEN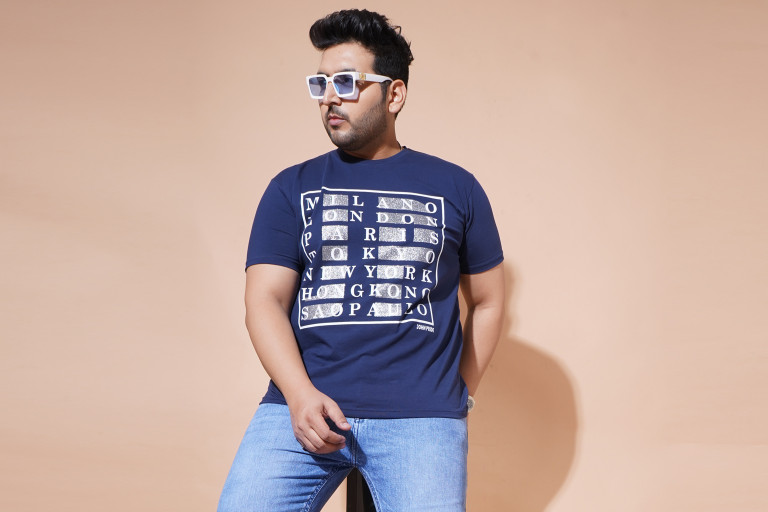 T-shirts are a true example of a "wardrobe staple." It would be difficult to find a man who hasn't owned this staple apparel. It started out as just a piece of garment to be layered, developed into work wear, and is now an unquestionable fashion necessity. The versatility of the T-shirt comes from its ability to outlive trends; it is the only article of clothing that can be worn to the beach, the gym, under a shirt, with a suit, and even to bed.
Now a T-shirt has become that garment we need all the time; hence we purchase them in large quantities, frequently from the same brand, and forget about them until they are gone. But are we making the most of our straightforward yet stylish T-shirts? This comprehensive guide to the best plus size T shirts for men will help you avoid spending hours or even days looking for the right shade, cut, and style.
FIT - Of course, everyone has their own personal preferences when it comes to clothing. But – despite the challenges of non-standardized sizes and the variety of different materials – there are some general style principles and rules to find the perfect t-shirt fit. These rules are independent of body shape, age, skin tone, and other personal characteristics. If you want a T-Shirt that fits the way it has to be, the following 3 points are critical when considering how should a T-shirt fit:
Collar: those with deep Vs should be avoided
Sleeves: they should be mid-length or slight extra down on the biceps and not too loose
Width: ideal when you leave 2.5-5cm loose fabric on each side of the torso
COLORS FOR THE BEST MEN'S PLUS SIZE T-SHIRTS
Cover all of your bases with these basic hues when it comes to the best t-shirts for you guys. Rather than adhering to a single hue, try to stock your drawers with a variety of tees that can be worn with every outfit or occasion.
GO WITH BASIC COLORS - The basis of every effective capsule wardrobe are black, white, grey, and navy, which is timeless colors. These t-shirts are sometimes labeled as "simple hues," yet their ability to complement an existing look or stand-alone is anything but.
PLAY WITH WHITES - The classic white tee. There's no better choice for layering, and it's the best color (or lack thereof) to pair with your favorite jeans. A basic white tee is a quintessential classic.
SLAY IN GRAY - The final textured effect of jersey or grey marl, which is a mixture of different colors, is highly attractive – especially if you're looking for a T-shirt to visibly enhance your body form. Big Guys who normally sweat a lot should be cautious, as grey will make it much more visible.
THE EVERGREEN BLACK - Although black remains a popular color amongst all categories, it does have advantages and disadvantages. On the bright side, a black T-shirt is a rebellious alternative to the traditional white t-shirt. However, in hot weather, the color is known to seem warmer.
DIVE IN COLORS - The rise (and rise, and rise) of trends such as athleisure and the relaxing of office dress codes means that t-shirts are now more popular than arguably ever before. Keep things fresh and inject some energy into your day-to-day looks by trying out colors. There are no strict rules here – making it an easy, affordable, and effective way of experimenting with different hues, patterns, and stripes.
CHOICE OF FABRIC - Most men prefer heavier fabrics over lighter ones, as if the quality of a garment is directly proportional to the weight of their t-shirt materials, on the other hand, they are polar opposites. A t-shirt should feel like a second skin, whether worn as a base layer or on its own.
Cotton or a cotton blend of some kind will be used to make almost every t-shirt. It is the gold standard, manufactured from long staple fibers that last longer, look thinner, and feel lighter in a quality tee.
A simple plus size mens t-shirt is possibly the most important piece of clothing to have in the summer. Different tees, on the other hand, come in a variety of materials, weights, and shapes. With all of this in mind, how can you choose the ideal top to combat the sweltering summer heat? For the most part, you can limit the perfect tee to the light, breezy option that complements your personal style. When shopping for the perfect summer t-shirt, keep an eye out for how breathable the shirt is, whether it's relax-fitting or big, boxy or wide.