FIVE BEST KURTA SHIRT STYLES FOR MEN
By:

Dipty Nagpal

Mar 15, 2022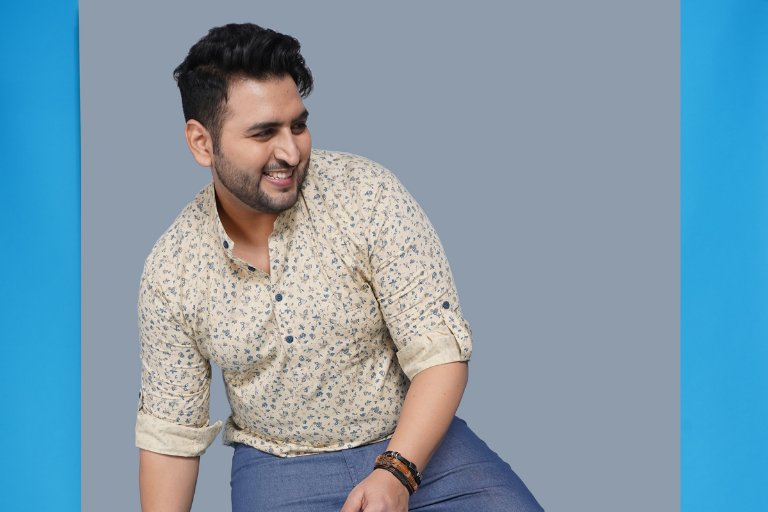 Plus Size is the new trend and just like Men's fashion, Plus Men's fashion evolves on a regular basis. All plus-size men's outfits, from formal shirts to casual tees, are updated on a regular basis. Plus size Kurta shirts are the most recent shirt fashion. A kurta shirt in plus size is a bit longer than a regular shirt and has a kurta-like cut, but it's a little shorter. Plus Kurta shirts are available in a variety of styles and colors. Men of any size can wear these kurta shirts anywhere, from parties to the office to weddings and cultural celebrations. These shirts are designed to be worn in every setting and for any occasion. Aside from that, these shirts are significantly more stylish and comfortable than regular shirts. You can style your plus size kurta shirt in these fabulous ways:
For plus-size men who are infatuated with summer basics, here's a breezy kurta style! When it comes to flawless spring-summer style, a short plus-size cotton kurta is undoubtedly the fashion flavor of the season. Most men's kurtas have obviously desi charm, but this is one style where indo-western ideas can be combined to create a modern and unique look. After all, a short plus size kurta has a lot of the same attractiveness as a typical men's shirt - except that the kurta shirt has a softer Nehru collar and is usually made of khadi, Matka, linen, and other similar materials.
Double Pocketed Chekered Kurta - Checks, in addition to stripes and plain varieties in kurta shirt patterns, are well-known and well-received in plus-size men's fashion. With classic colors, the checkered plus-size shirt kurta looks very classy and trendy. They stand out from other types thanks to their long sleeves and simple yet exquisite looks. This may be a good fit for you if you are a simple and humble individual.
Spring Bloom Kurta - The printed variants in plus-size shirt styles for plus-size men are among newcomers in the fashion industry and well-received by modern-age young men. With the old-style prints and light color hues, the colored printed plus size kurta shirt that makes you feel the spring is among our top favorites and is well received in the fashion industry.
Striped Kurta - Stripes are one of the most popular and adaptable plus-size kurta shirt designs for plus-size men. Daily dress, whether casual or formal, creates an instantaneous and dignified appearance. Plus Men can be confident that they will look gorgeous and trendy in the striped plus size kurta shirt with half sleeves.
Classic White Kurta - Now that we've seen enough spectacular plus-size kurtas, it's time to move on to everyday wear and ultra-stylish fashionable plus-size shirt kurtas. Although this plain white plus article of clothing may appear ordinary to you, the overall attire and striking contemporary design set it different. This exquisite piece perfectly merges in with the modern taste.
Stich Detailed Kurta - Plus size Men of modern choice and fancy outlooks who prefer contemporary trends prefer this stitch Detailed plus size shirt kurta. It has a much shorter length and looks modern for anyone who wears it. It gives a mass and rough and yet smarter appearance quickly.
It's not just about wearing these clothing and making style statements; it's also about displaying them correctly. Here are a few tips on how to style them properly. The plus-size shirt kurtas are a very classic and attractive option for guys. You can wear them with plus-size jeans and sunglasses with sneakers to seem sophisticated and elegant.