FORMAL SHIRTS THAT CAN MAKE FASHION STATEMENT FOR PLUS SIZE MEN
By:

Dipty Nagpal

May 23, 2022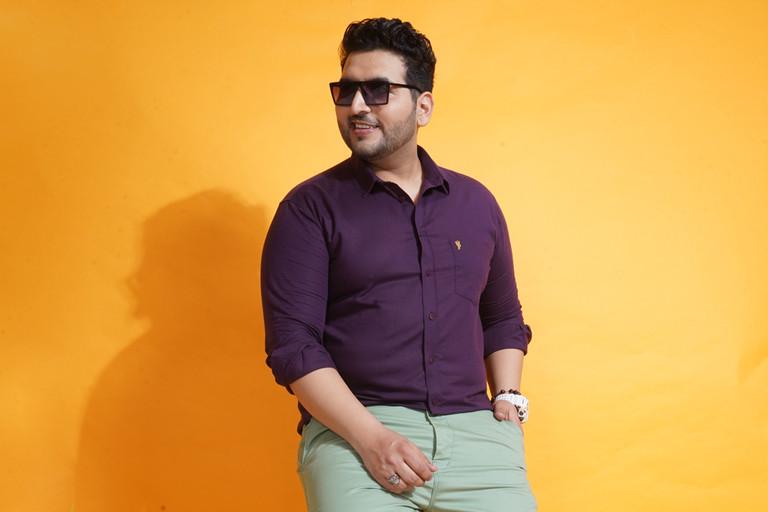 The shirt is the most important piece of apparel that defines a man's own style. It's a really adaptable piece of clothing that comes in a variety of styles and fits, allowing you to create a new appearance with each shirt you wear. This basic piece of clothing can be dressed in a variety of ways depending on the occasion, whether it's for daytime, evening, or a wedding. Here are a few suggestions and variations of plus size mens formal shirts that will catch the eye of the spectator.
White shirts are timeless and adaptable - A classic plus size white shirt will never go out of style. It goes well with plus size denims, a black formal trouser in plus size, and even casual summer attire. Every plus size man's wardrobe should include at least one plain plus size white shirt. It's the secret to making an unforgettable fashion statement. It is ageless and never goes out of style.
The button-down shirt in the Oxford style - This is a classic piece of plus size men's clothing with a marled appearance and rich sartorial history. This plus size has been around for decades and is no longer considered "old" men's clothing. The plus size button down collar offers you a rich and fashionable style, while the classic look of the oxford shirt in plus size injects a hint of casuals' which is minimalistic.
Checks and stripes - When worn with plain plus size chinos or plus size formal pants, plus size formal shirts with checks and stripes for men make a great combo. It's appropriate for both day and evening wear, as well as formal meals and occasions. It's a modest approach to jazz up the conventional suit look.
Printed Shirts with collars - Choose printed shirts in plus size with a collar if you really want to make an impression in formal attire. These plus size shirts are stylish and classy. Wear shoes, though, to make the complete ensemble look fashionable and current.
Layer with the shirt - Adding some bright, contemporary pieces is another way to break up the monotony. For example, a solid coloured plus size t shirt looks great under a plain plus size formal shirt for plus size males. With some basic plus size trousers for men and a basic shirt, pair a vibrant tank or a graphic muscle tee. You can even put a colourful t-shirt underneath, as long as it is light enough to wear in the summer.
Denim Shirt - You can never have too much of denim in your wardrobe. Go in for that rugged look by wearing a light coloured plus size denim shirt over dark blue straight fit Plus size jeans for Men and let this pair of these super stylish tan brown brogues take your style game several notches higher. Think denim is too casual for office? Time to break some rules and make work fun. A little bit of experimentation with your office formals can give you that perfect makeover. Wear a trendy plus size denim shirt with a pair of well fitted black formal trousers in plus size and you'll definitely be setting some fashion trends at work.
The ability to wear shirts is one of the many things we are now lacking. Plus Size Men's formal shirts are vital wardrobe basics. However, the past scenario does not necessitate a strict dress code from us. As a result, our shirts are collecting dust in the back of the closet. It's time to dust them up because we've got some significant style inspiration for you because we all are back in the offices and we really need to dress up and go to the workplace. Break out of your fashion rut by styling your classic formal shirts in a new way!